Adopt a body scrub routine for soft, smooth skin, free of dead skin cells.Exfoliate, renew, hydrate, refresh your skin!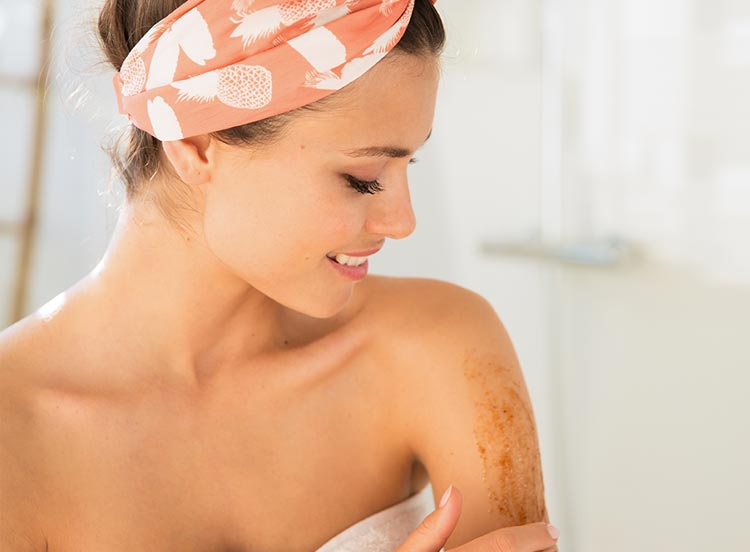 Say goodbye to imperfections and dead skin cells with exfoliation!

Take a dollop of Botanical Scrub with apricot stone powder, a 100% natural exfoliant. Then scrub your entire body using circular motions from top to bottom, towards the heart, to stimulate your circulation and promote drainage. Sweet tooth? Choose fruity scrubs such as Vanilla Bourbon, Mandarin, Lemon and Cedar, Coconut... There's something for every taste! Need nourishing? Exfoliant Oriental, velvety skin in the Turkish bath tradition, allows your skin to be exfoliated and nourished at the same time thanks to argan oil and Moroccan clay. Need more softness? The Konjac body sponge, a 100% natural fiber, leaves you with baby-soft skin thanks to its gentle exfoliant action.
Intrigued?
More intensity? For deeper exfoliation, an Exfoliating Glove may be used prior to a scrub.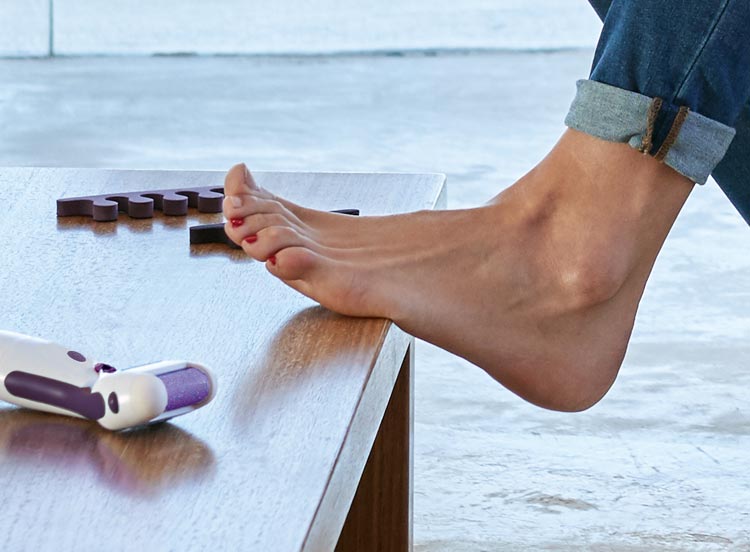 Certain areas such as the elbows, knees and feet need more attention. For deeper exfoliation, make small circles then rinse thoroughly with water. For the feet, our Polishing Foot Scrub enriched with essential lavender and peppermint oils can be used once or twice a week. Your feet will be soft and smooth!
Your hands also need to be pampered from time to time. Twice a week apply our Exfoliating Nail Treatment with apricot stone powder and argan oil, to gently scrub your nails and hands to smooth and soften them.
Focus on the legs: The scrub will be your best ally for the legs of a goddess, soft and smooth, without unsightly hair. You can also add Hair Regrowth Inhibitor Moisturizing Foam to your skincare regime: it hydrates your skin while slowing hair regrowth, which will be less dense thanks to skullcap root.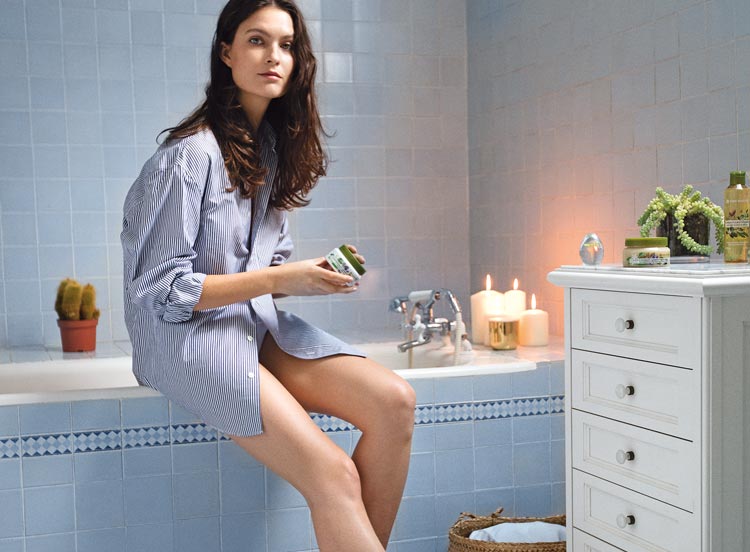 After all these intense steps, your skin needs softness and soothing!

Nothing works better than Moisturizing Lotion for normal to dry skin, rich in aloe vera. Apply to your entire body moving toward your heart to calm and protect your skin.
How often should I exfoliate?
 It all depends on your scrub. Exfoliating Shower Gel or Exfoliating Soap, considered to be gentler, may be used every day, same for the Konjac body sponge! For more intense exfoliation, such as with our apricot powder Botanical Scrub, once or twice a week should suffice! Your skin will be prepped and magnificent!
Share with us your new routine!