Celebrate the Christmas Countdown 2020
Picture this... it's Christmas Eve, and the most magical time of year has arrived! Here at Yves Rocher we're already getting into the Holiday spirit, so in preparation for our favorite month on the calendar we thought we'd share some of our best stocking stuffer ideas. The festive season only comes around once a year, and even though Christmas might look a little different in 2020, there are still plenty of reasons to celebrate. Yes, the best family traditions can be celebrated in style, including the joy of gift-giving. Whether you're planning to fill mom's favorite Santa-print stocking with a handful of hair and skincare treats, or you need some cute and colorful inspiration to help your loved ones enjoy all the trimmings; here's our Top 5 beauty stocking stuffer ideas, hand-picked just for her. After all, it's true that the prettiest things come in small packages…
What do you buy for your distant relative, teen stepdaughter or as a gift for your little one to give her favorite school teacher? Nail polish, of course! Available in 32 colorful shades with a super-nourishing quick-drying formula, our 'Go Green' nail polishes deliver the perfect mini gift idea so you can tick everyone off your Christmas list this year. Priced at just $9 per 5ml bottle, not only are these makeup stocking stuffers an affordable option for every budget, they'll also show your Christmas recipient that you've chosen a personalised color to match their makeup tastes. Whether you want to go with a classic festive red or a gorgeous green shade, these beauties are cheap and cheerful enough to snap up all 32 shades if your heart desires!
Kind to nails and safe for the environment, our 'Go Green' nail polishes are super sustainable in that they contain bio-sourced ingredients produced from botanical biomass origins including beet, sugar cane and wood. Enriched with bamboo extract and coconut oil, our eco-friendly formula is highly beneficial to the quick-dry gloss finish they'll achieve from a single coat of this non-toxic natural polish. With an easy-application, each color glides onto the nails beautifully and lasts for up to 10 days without chipping. Don't forget to prep and prime that holiday manicure with a base and top coat, and voila... flawless fingertips that'll look perfect on their family snapshots.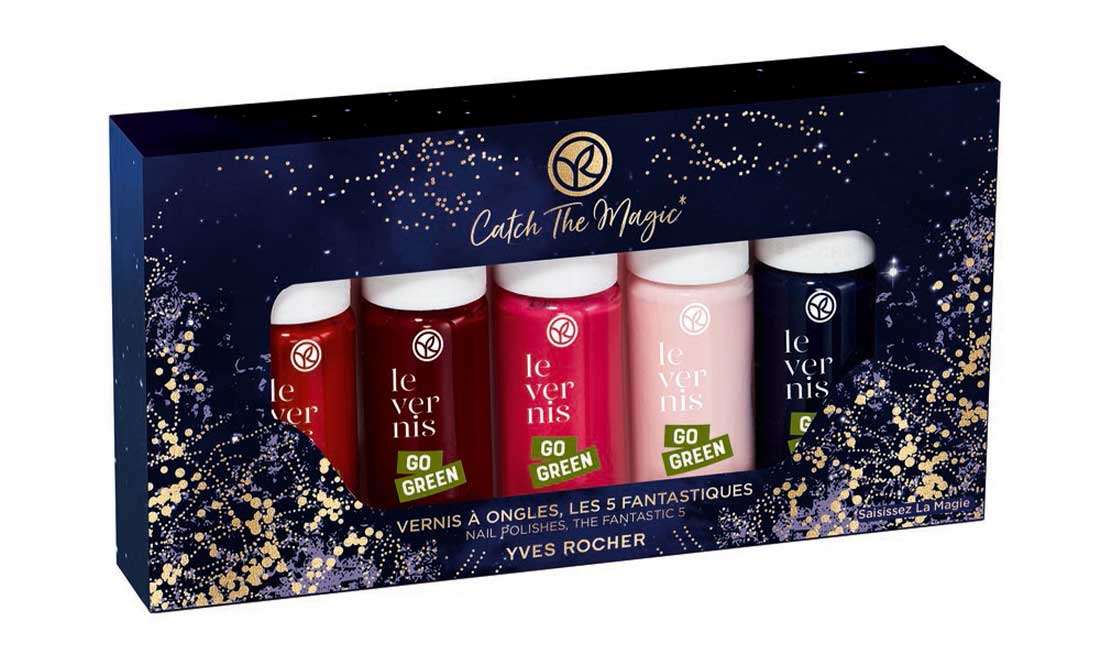 If you're anything like us and you're a fan of gifts that look festive all year round, your loved ones will surely appreciate this next stocking stuffer idea. Available in special limited edition packaging that's also widely recyclable, this delightful hand cream quartet is an absolute must-have for the moisturizing season. Not only do these products come in four tantalizing fragrances (coconut, vanilla, mango and olive), they're also made up of 95% natural origin ingredients which botanical beauty lovers will adore.
At Yves Rocher, our hand creams offer the perfect beauty pick-me-up all year round, but they're especially popular during wintertime when our skin is in need of an extra moisture boost. And with the use of hand sanitizers on the rise, all the more reason to give hands a little more care with a pampering cream. The best part about this gift? You can make your festive budget spread a little further by splitting up these tubes into four individual gifts, which can then be stuffed into any Christmas stocking with room to spare. Paraben-free and tested by dermatologists, these delicately scented creams really are the perfect winter treat - simply pop into a handbag and use while on the go!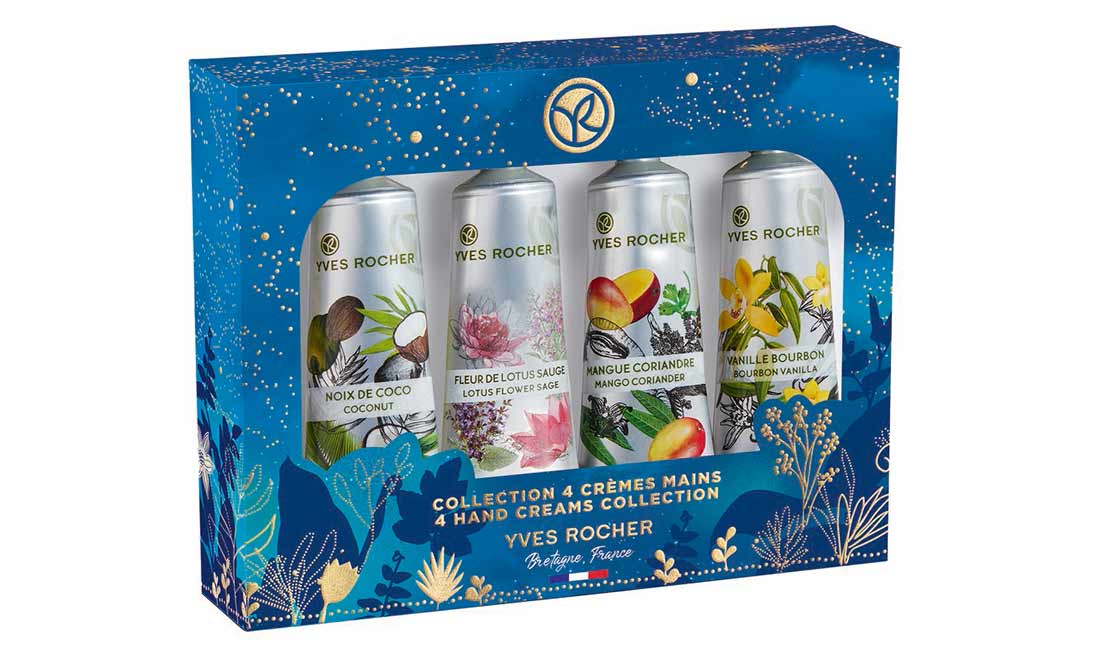 When it comes to gifting beauty stocking stuffers, a little goes a long way. And the same principles can be applied to your hair. With our 3-in-1 hair care box set, there's something for every pre and post shower routine. If you're looking for a helping of unisex products this year, this handy gift set includes not one but three reparative products:
The first product is a scalp scrub which is ideal for anyone looking to rid their scalp of impurities. For best results, simply massage into the scalp for up to one minute and rinse off with cold water.
The second product is a raspberry scented rinsing vinegar to be applied on wet hair using a small quantity before rinsing one last time. This hair care hero works by removing limescale deposits on the hair fiber left behind by water, as well as all other factors that have a dulling effect on shine, to provide hair with natural shine as well as helping your fresh salon color last for longer.
The third and final product from our exclusive hair care set is a botanical balm which is particularly beneficial to dry and damaged hair in need of deep nourishment. Whether the balm is used in the shower as a rich hair mask to replace their everyday conditioner or applied afterwards as a leave-in treatment, this multi-purpose hair treat is versatile enough for the whole family to enjoy.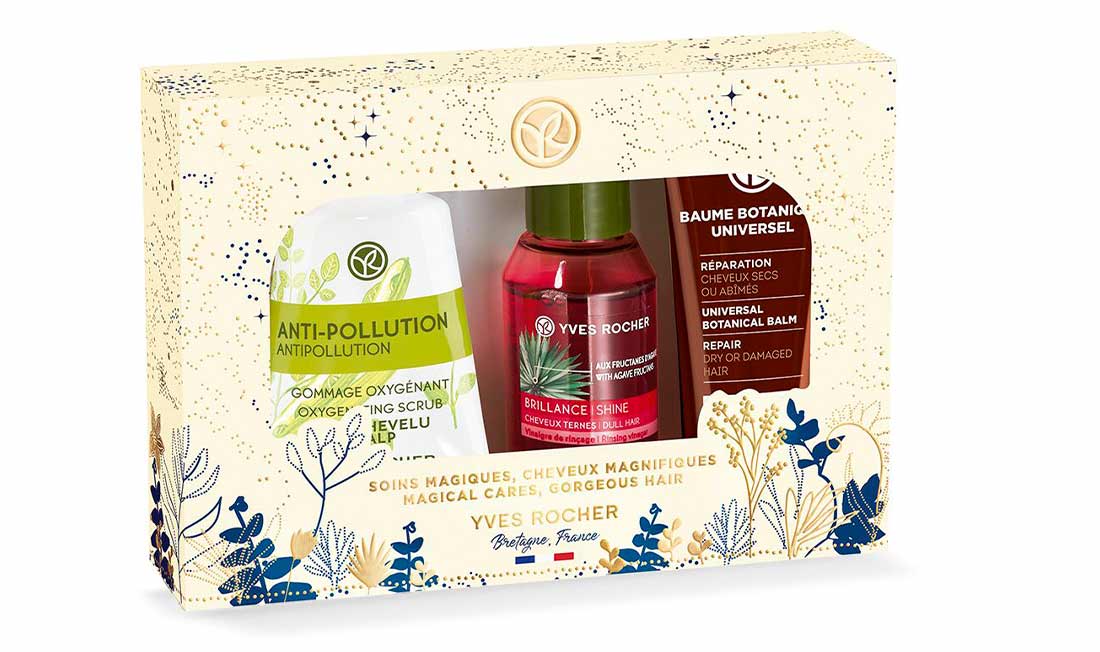 For those who want to capture the essence of Christmas, this limited edition Holiday collection by Yves Rocher is guaranteed to spread a little festive fragrance. Let the ladies in your life indulge their senses with this selection of beauty stocking stuffers. Available in a choice of Winter Apples and Midnight Berries scents, our curated collection of Christmas products include everything from body scrubs and shower gels, to hand creams, hand soaps, lip balms and even a special candle to complete their at-home spa experience. Whether you want to pair the same scent throughout our entire product range, or mix and match between the two fragrances, this exclusive holiday-themed beauty edit is sure to help you get creative with your stocking stuffer ideas for women.
Our personal favorite? The Christmas body scrub which smells delicious, promotes smoother skin, and in true Yves Rocher style, this product contains 97% natural origin ingredients so they can enjoy even more natural skincare goodness throughout the party season and beyond.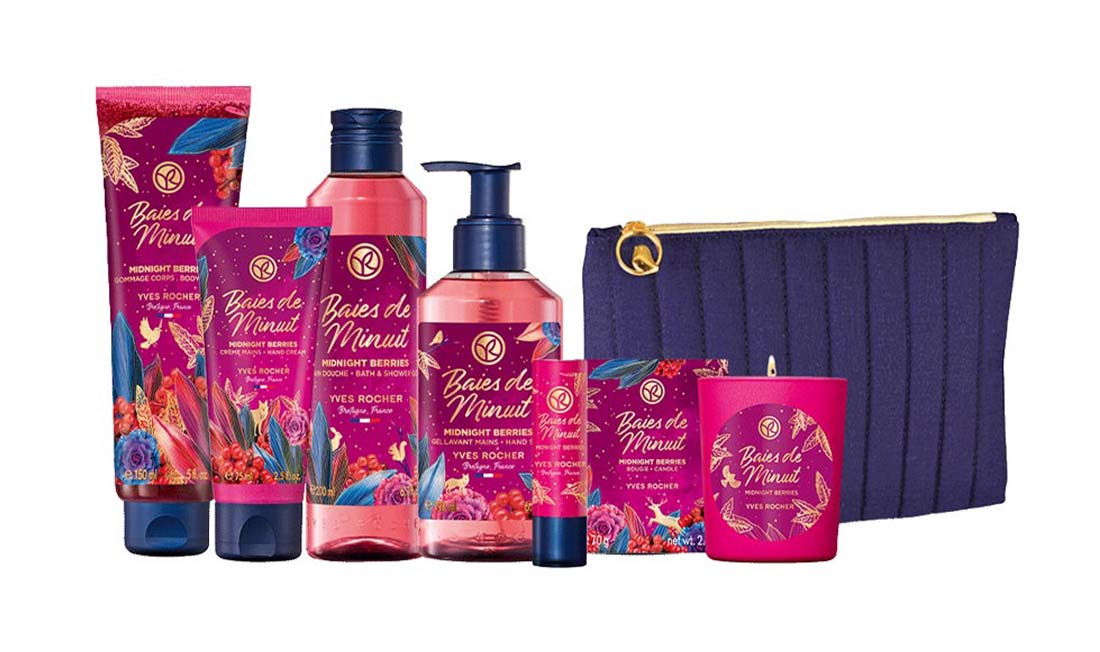 Our Magical Shea body care range is the ultimate eco-friendly stocking stuffer for a blissful bath time experience. Available all year round at Yves Rocher, but packaged in a range of limited edition designs just in time for Christmas, this delightful Holiday collection has a beautiful shea scent that's reminiscent of the cocoa bean. So whether you want to spoil your mom, sister or best female friend, these intensely-nourishing shea butter goodies are the perfect pampering treat to drop into their stockings this Christmas.