Are you participating in a Secret Santa game this year? Follow our tips to offer a gift that will please everyone with no exceptions !
First of all, let's remember what a Secret Santa is all about . It is a friendly game that in which you pull someone's name out of a hat and buy them a Christmas present. Friends, colleagues or family, everyone can play. You have an idea of what your cousin would like to receive but you don't have a clue about what to gift your collegue?
We are here to help you !
Do It Yourself! A simple, inexpensive and thoughtful gift
Why not make the present yourself? It's always nice to receive a gift that someone has spent their precious time on making.
Home-made gifts work well even when they are low cost and simple. Our favourite DIY idea? The chocolate cake kit !!
In a customized glass jar, you're providing everything need to bake a chocolate cake comprising the ingredients and the recipe.
Here are the different steps to follow :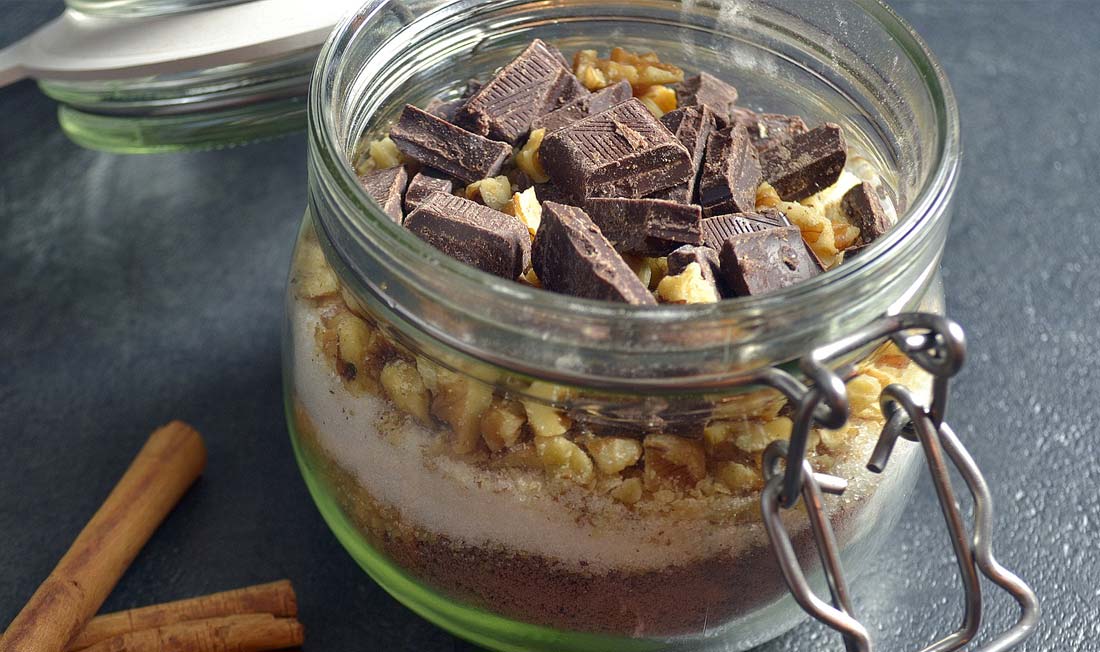 Using your favorite chocolate cake recipe, place the ingredients layer by layer in an airtight glass jar (don't include perishable products such as butter or eggs).
To customize and wrap the kit, decorate the jar with a ribbon or burlap string.
Write the recipe onto a piece of cardboard that you can then decorate using serrated scissors and decorative scotch tape. Punch a hole into one corner of the paper and pass the ribbon or string attached to the jar through it.
For an extra sweet touch, insert a candy cane between the ribbon and the jar.
And there you have it, a gift that will appeal to almost everyone! (Worst case scenario, the person doesn't like chocolate, but they can still make the cake for their party guests...)
Yves Rocher products: a practical and pleasant present to receive
You rather choose a gift ready to offer at an affordable price? Find your happiness in our Christmas limited edition collections "Milky Almonds" with the enveloping scent of sweet almond and "Juicy Berries" that releases a sweet and comforting Cranberry scent. Scented candles, soaps, hand creams... you won't lack of inspiration !
You will even find lovely wrapped kits that contain a hand cream and a lip balm, the perfect combo to face winter !
A framed photo collage, what could be more personal !
A framed photo or collage is always appreciated in this digital age as we don't often have time to print our photos. It's great to look back through photos and remember those good times you've shared together.
Don't have any photos with your chosen Secret Santa? No worries, we have the solution for you! If you feel uncomfortable invading this person's private life, ask the person's relatives to send some photos of them with their friends, with their family or on vacation. What tips do you have for giving gifts that will be a hit? Let us know in the comments!
Here are some ideas, now it's up to you !