The power of the bud and the botanical expertise of Yves Rocher, at the service of an expert anti-aging line: Anti-Age Global.
A simple bud, a powerful anti-aging
Inside the Yves Rocher laboratories, our botanists and phyto-analysts worked together to create the Anti-Age Global range and its unique anti-aging active, bioinspired by Gemmotherapy or the science of buds.
Buds are known to boast superior properties when compared to 'adult' plants. The bud alone holds all of the plant's potential and power. Its cells contain a high concentration of vitamins, minerals and other nutrients.
Thanks to 7 years of research in botanical biotechnology and cell-aging around the bud, our researchers decided to select this precious botanical bud nectar. This concentrate of anti-aging botanical effectiveness works at the core of skin for an exceptional regeneration of its appearance.
Thus, this bioscience innovation*, allowed us to create this duo of expert serums and a line of unique products to fight against all signs of aging.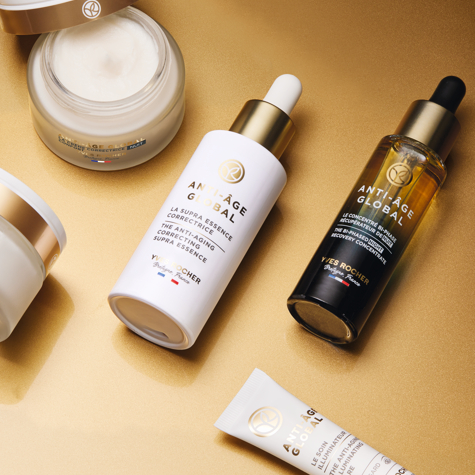 A unique bi-phased formula
Its innovative texture is made up of a natural hyaluronic acid gel, containing a double concentration of Bud Nectar (compared to the Supra Essence). It is combined with rice inositol and apple oligosaccharides for complete anti-aging effectiveness (benefits: day after day, in the morning, the complexion is luminous, features appear smoothed, wrinkles appear less visible. Skin is firmer, it looks regenerated and repaired*).
This gel is also composed of a golden phase, it contains precious jojoba, borage, grape seed and camelina oils, which, after shaking and applying the product, leaves a pleasant and comforting sensation on skin.
The oily phase is activated by finely mixing it within the hyaluronic acid gel, meaning this bi-phased texture provides a unique sensorial signature, with an enveloping texture that feels soft and light on skin.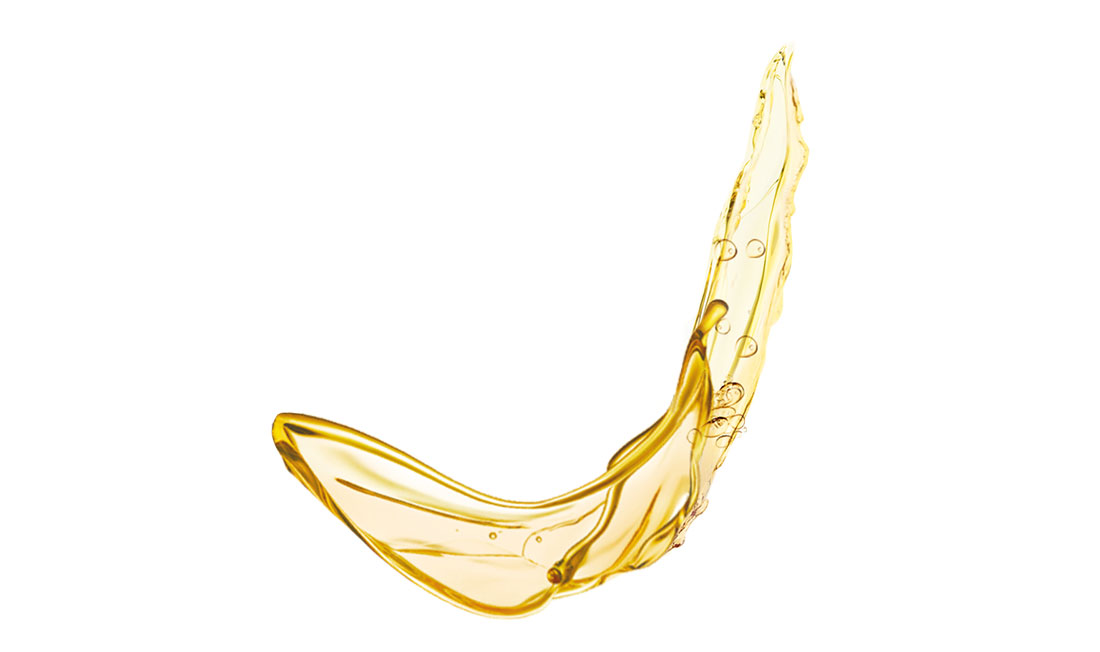 A better assimilation of the bud nectar
In addition to this highly sensorial sensation, our skin specialists have demonstrated that this bi-phased texture increases and improves the assimilation of our bud nectar by skin.
This means that the bi-phased formula isn't simply beautiful to look at and apply, but that it also, and above all, becomes a true impregnation vector of our extract.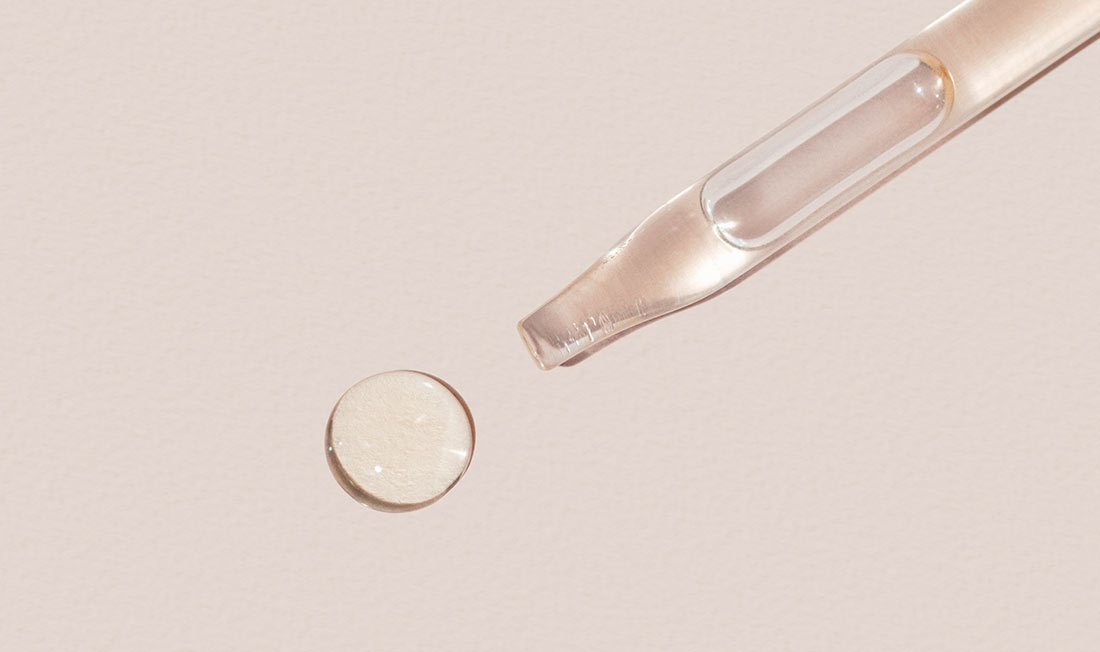 Anti-Âge Global, a gem in Yves Rocher's anti-aging portfolio
Today, Anti-Age Global is the gem in Yves Rocher's anti-aging portfolio. A product line that brings together all our unique expertise and allows us to fight against all signs of aging and beautify skin.
Our star serum is found at the heart of this line: the Anti-Aging Correcting Supra Essence. Formulated with 95% naturally-sourced ingredients, the Correcting Supra Essence fights against all signs of aging and provides skin with firmness, density, wrinkle appearance reduction, radiance and a even complexion.
Immediately, skin texture is finer, skin is smoothed and radiant. After 1 month, wrinkles appear reduced, skin is firmer, redensified and revitalized.
The tests results speak for themselves : 4 x more new skin cells after 5 days (2).
Recommended use : Shake and apply its ultra-fluid serum-essence, morning and evening while avoiding the eye contour. Do not use on irritated skin and stop suse if irritation occurs.
(2) In vitro test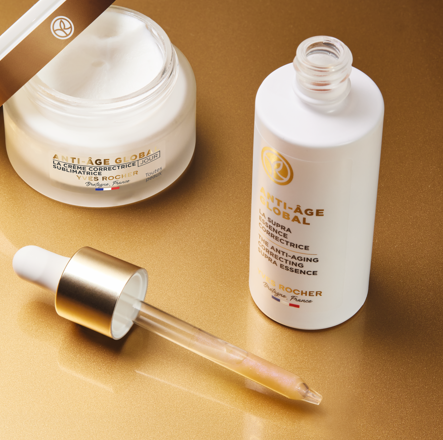 What next?
In order to take it a step further and to develop the Anti-Age Global anti-aging expertise even more, we've decided to focus on a key time frame for skin regeneration: the sleep phase.
And yes, night-time is really THE time frame when cell multiplication is at its maximum, especially between 1 a.m. and 2 a.m. We call this chronobiology: it's a sort of cycle or even internal clock system that allows skin to reach its regeneration peak during sleep. This moment of high metabolic activity is also the time when ingredients can best penetrate skin.
We have therefore decided to concentrate our research efforts on this crucial moment, night-time, as it seems logical to offer a product that is highly concentrated in ingredients with a penetrating texture that can be applied in the evening. All this, of course, is to be able to offer a complete and expert care routine within Anti-Age Global.