To create the NEW Anti-Age Global line, Yves Rocher Botanical Beauty researchers drew inspiration from ancestral knowledge: Gemmotherapy, the science of buds!
Gemmotherapy is the science of buds.
This name comes from the Latin «gemmae» which etymologically means «precious stone». Buds are remarkable because they can give birth to any part of the plant.
In their core, they concentrate all the elements that are essential for life and for plant growth: vitamins, minerals and other nutrients. Buds' capacity for development and transformation is also linked to the significant presence of precious plant cells in their tissues, cells with an exceptional renewal capacity.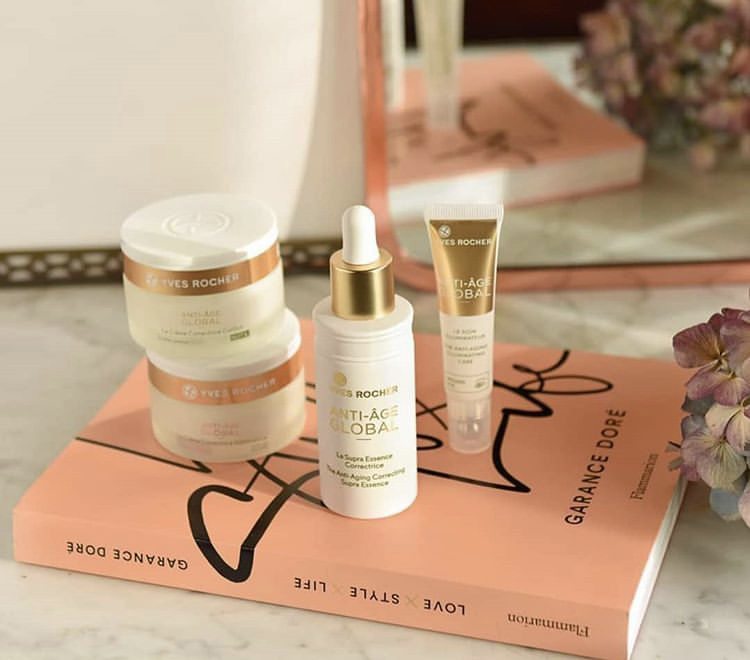 Scientists from the Yves Rocher Brand have succeeded in bringing together this ancestral inspiration and Botanical Beauty innovation in our new Anti-Age Global skincare line.
They have selected a patented plant biotechnology process that allows them, using a single extract from a selected and preserved plant, to create an innovative active: BOTANICAL BUD NECTAR.
It is at the heart of buds that our Botanical Beauty researchers have selected a precious Botanical Nectar for its unique regenerative ability. It works at the core of skin for an exceptional regeneration of its appearance after 72h and improves its cohesion to recreate perfect harmony* thereby contribuing to a global anti-aging action.
*In vitro tests.
Botanical Bud Nectar: 3 patents filed in France
Product focus : The Supra Essence
With over 94% ingredients of natural origin,  the new Anti-Age Global formulas are vegan, and respects both the skin and the planet! Let's take a closer look at one of the products from this new line: The Supra Essence
How to use it? 
Take a few drops, using the pipette, designed to give you the right dose. Then, apply light pressure on your face and gently massage it from the inside to the outside.
The fluid and moisturizing texture of the Essence should be applied mornings and evenings all over the face and on a well-cleansed skin.
What are its benefits? 
Skin appear intensely renewed, with all the signs of age corrected**.
Day after day, the skin texture feels smoother and more radiant. Day after day,  wrinkles appear reduced, skin becomes firmer and  complexion is more even. In 1 month, the skin is replumped and revitalized.
After 28 days, the radiance of the skin's complexion is boosted by 111%*!
*Semi-structured sensorial scale.
**In vitro and metrological tests on volunteers.
Have you tried the Anti-Age Global routine? Tell us what you think!