As the air gets frostier and twinkling lights pop up in windows and along streets, our minds start to ponder what gifts to give to our closest friends and family. 
We might be biased here, but beauty products are perfect gifts for under the tree or as stocking stuffers.
Whether for a man or a woman, for your beauty-obsessed bestie, or for a cousin you see once a year, this little gift of self-care gives any recipient an opportunity to indulge in new scents, colors, or products. From hydrating lotions to sparkling eye palettes and punchy, bright lipsticks to nourishing serums — beauty products are often gifts that keep on giving. 
So, we wanted to know: Where in Canada are beauty products the most trending Christmas gifts, and which beauty products are dominating online searches (and potentially the most coveted) in each province during the holiday season? 
Using Google Trends data, and our expert beauty intel, we've uncovered which provinces are lusting for beauty products during the holiday season and which prefer painting festive nails, pampering their (likely winter-dry) skin with luscious face cream, and more. (Scroll down to see our methodology section.)
Alberta and Ontario are the most interested in "beauty gifts"

during that peak

gift-buying frenzy

from Black Friday until Christmas Eve

(in 2020). 

Jingle smells, jingle smells (but smells good!): Perfume gift sets

are uber-popular out west in British Columbia. 

Treat yo' (moisturizing) elf:The gift of face cream

is perfect for those living in the province of Quebec.

Residents of Alberta know what's up: Albertians are big fans of face serum,

which is key for healthy, hydrated skin. To the rest of Canada, take notes!

Saskatchewan and Nova Scotia don't play around: Body lotion is their most popular product,

and we are oh so proud of them. Whoever needs to hear this, here's your reminder to moisturize your body!
Holiday Beauty (Gifts), Inspired by Nature: Alberta and Ontario
Well, we thought Alberta was for mountain hiking and Ontario for Niagara Falls and the CN Tower, but according to our research, these are the top 2 provinces most interested in beauty gifts during the holiday season.
When it comes to Alberta and Ontario, we just can't stop picturing the natural landscapes overflowing with breathtaking beauty. Lush forests, lakes, and mountains adorn Alberta's landscape, while dramatic waterfalls and beautiful lakes grace the province of Ontario. 
Those living here must be inspired by the natural beauty, right?
Starting with Alberta in the number one spot, their affinity for beautifying may not be that shocking. Having more sunshine year round than any other Canadian province, Albertans get to show off their beautiful skin and makeup more than anyone. Beautiful scenery and the most sunshine? Come on Alberta, leave some for the rest of Canada!
Alberta is also home to the biggest shopping mall in North America. With over 800 stores and services, it covers a surface area of about 48 city blocks. Can you imagine how huge this mall is? Wouldn't want to get lost in there. Having such an immensely large mall, we aren't surprised that Albertans are the ones who shop online the most for beauty products! 
Now, for runner-up Ontario: the province known for its amazing waterfall, and that famous CN Tower. Did you know that you can walk on the edge of the 356 meter-high tower? Our stomachs turn upside down just thinking about it. Needless to say, Ontarians are here for a good time, not a long time. This might explain why they are such big fans of beauty products and skincare. They want to look and feel their best while they're here, as they should! Toronto is also known for its great street-style, which adds to the idea that Ontarians love to look good and feel good, whether that be by using skincare and beauty products, or expressing themselves through their personal style.
Other provinces popping up with a sizable interest in beauty gifts include Quebec and British Columbia.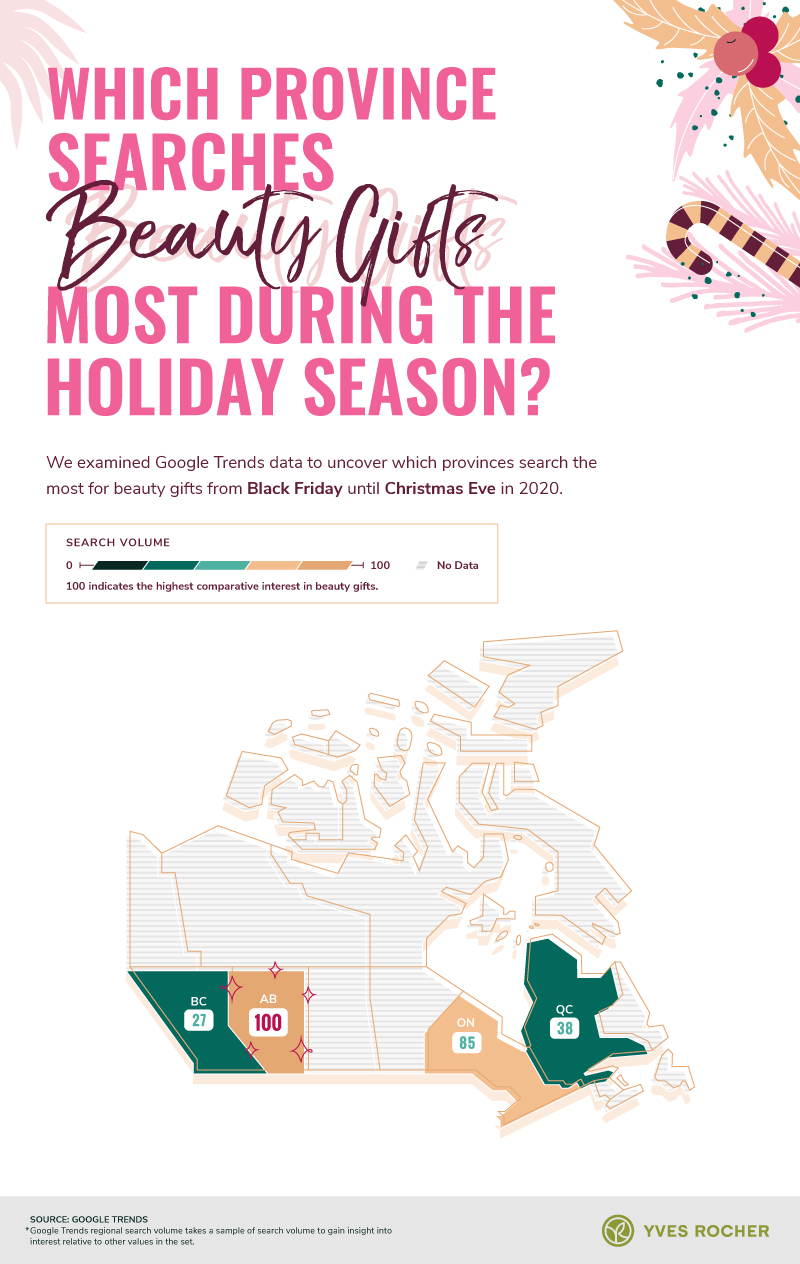 The most popular beauty products in each province
It can be hard to narrow down which gift to give to which person no matter how well you know them. So we're helping narrow down the list for you (at least when it comes to beauty Christmas gift ideas). We've chosen 10 of the most popular beauty products during the holiday season and uncovered which are searched comparatively more in each province than in any other provinces: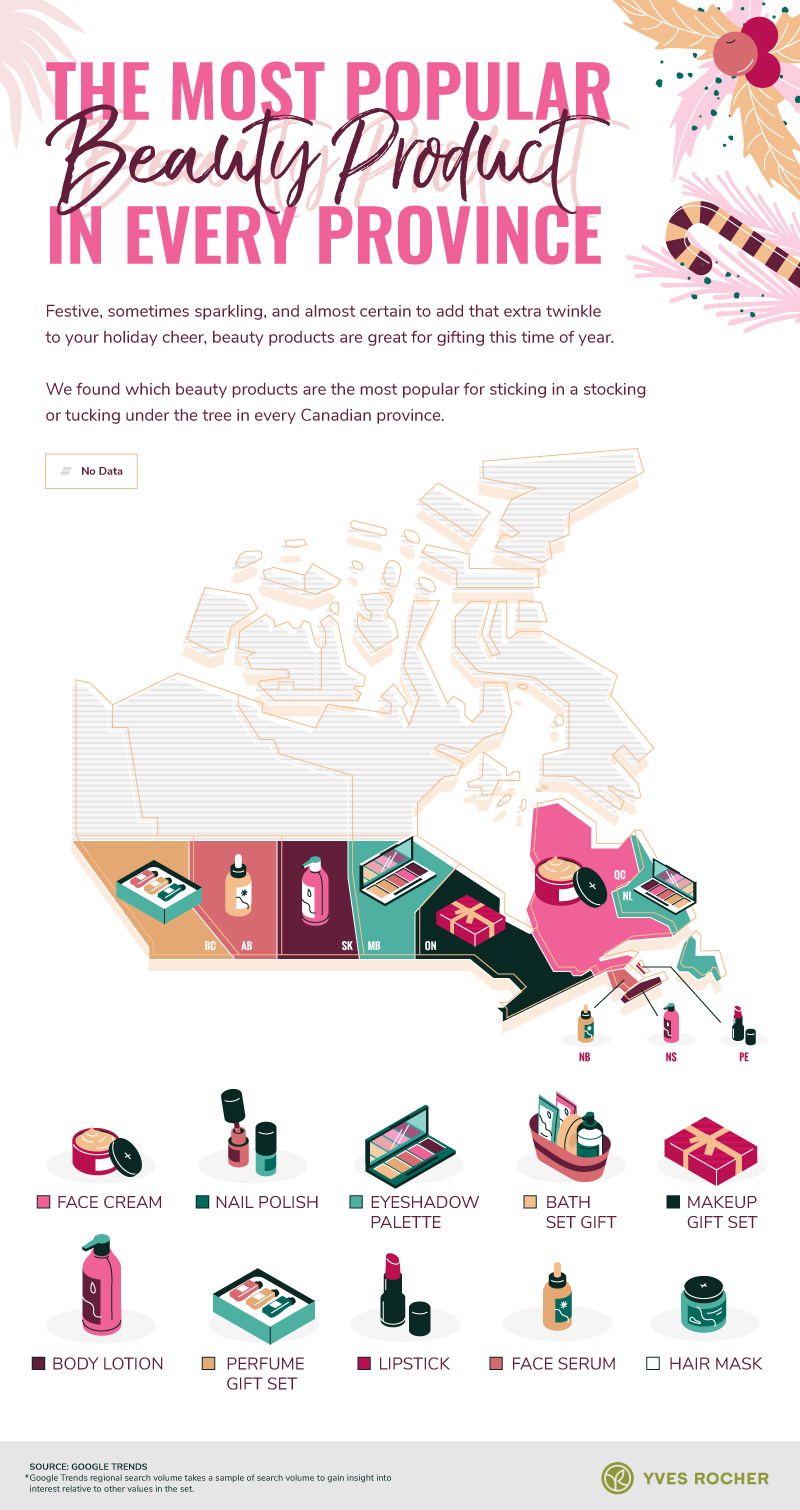 The top 3: Body lotion, face serum, and eyeshadow palettes
Body lotion, face serum, and eyeshadow palettes seem to be the three most popular beauty products in Canada. Plus, they make for great gifts!
Body lotion always makes for a great gift, especially in Canada. With the long winter months, body lotion is an essential all year round. Although Canadians often complain about the cold, Saskatchewan and Nova Scotia know that there's nothing quite like coming in from the cold and getting into a nice warm bath, with a delectable hot chocolate in hand. Then, the best part is getting out and covering your body in your favourite body lotion. Whether you prefer a fresh scent, sweet scent, or festive scent, you're left with soft, moisturized skin that will leave others wondering what that amazing smell is.
As for face serum, they can range from fancy and luxe to practical and fundamental. The truth is that most people should be using them either way! But don't send the wrong message by gifting anti-aging serum. It's like getting coal in your stocking! (Though, according to some sources, that gifting faux-pas may be one to overlook if it's for your best friend or mom.) A good rule of thumb for gifting face serum is to stick to those of the hydrating varieties. Everyone could use some extra hydration, so it's a safe bet that you won't offend anyone, but it seems that Alberta and New Brunswick were way ahead of us.
Lastly, we have eyeshadow palettes. Manitoba and Newfoundland and Labrador are big fans of eye makeup, which also make for a great holiday gift idea. Whether you prefer a soft, neutral eyeshadow look, or bright colours, it's always fun to see what different looks can be created with one's imagination. With the holiday season coming up, it's the perfect time to try out your favourite glam looks and show off your makeup skills to your friends and family. After spending the greater part of the past (almost) two years inside, it's time to get creative! After all, it is the season to be merry and bright.
Lean your ear this way, these provinces have something more to say
It would be Rude(-olf) if we overlooked the provinces begging for some of the other beauty products on our list.
For instance, the makeup essential, lipstick, wasn't nearly as popular as we thought it would be. Prince Edward Island might be the smallest province in Canada, but they know how to complete a makeup look. Lipstick is always a great addition to finish off a full face, but it's also perfect for when you don't want to put too much effort into your makeup. Adding a pop of colour to the lips gives that effortless, yet put together look. Perfect for when you're in a rush, or simply having a minimal makeup day.
For those looking to sleigh the makeup game, you might be from Ontario, where makeup gift sets for women are tree-mendously popular. Whereas the classic eyeshadow palette is more for those from Manitoba and Newfoundland and Labrador, as mentioned earlier. 
The tried and true perfume gift set (basket, bundle, etc) is popular in British Columbia. But don't give a set to those in Saskatchewan and Nova Scotia - they keep it super simple for Santa and are just looking for body lotion. 
And hardly last on the list, but maybe the most important and essential product featured is face cream. Fun fact - whether you have dry, combination, or oily skin, face cream is key to having healthy skin. Make sure to pick one according to your skin type for optimal results. The province clamoring for some cream for hydrated skin this holiday season is Quebec.
Perhaps the creme of the crop for all of these beauty Christmas gift ideas is a beauty Advent Calendar. Many beauty brands like Yves Rocher feature Advent Calendars that offer an entire collection of gifts so you don't have to choose just one to give. This is a sure-fire way to score extra points with the beauty lover in your life.
Which provinces search the most for "beauty gift" during the holiday season? 
We started by a simple Google Trends search of "beauty gift" in Canada for the period: 11/27/20-12/24/20. 

We then pulled the Canadian region-based data to understand which provinces have the highest comparative search volume. 
Which states search the most for "x" beauty products? 
We collected a list of 10 beauty products using Yves Rocher intel to uncover those most popular during the holiday season. 

Lipstick 

Eyeshadow Palette

Face Cream

Face serum

Perfume Gift Set

Makeup Gift Set

Body Lotion

Bath Set Gift

Hair mask

Nail Polish 

We then searched each "product" and collected the Google Trends region-based data to uncover in which province these products were the most popular. To understand in which province a product was most popular, the product that was searched more frequently in a province than other provinces was chosen as the most popular. 

This method does not indicate which product was searched for more than any other product, but rather which product was searched for more frequently in comparison to all other states in the nation. For example, search volume for "face cream" and "nail polish" was high across all provinces, but some provinces are more interested in less common items like a "bath set gift." So, when we look at the comparison of interest, we uncover that, for instance, Manitoba may want other items but they REALLY want a "body lotion" more than any other province.  

In provinces with multiple products tied for "first," we included all popular products in the results. 
Data was collected from Google Trends on October 15, 2021.